1/6 Scale Dollhouse is Big Writing Inspiration
It was last winter at this time — December 26, in fact — that I assembled the bones of a project that would ultimately help inform and inspire my second Curious Case of Mary Ann book, The Trouble with Tweedle. I decided I was going to build Carmine Manor, the family home of my character Sir Rufus, from a 1/6 scale knockoff Barbie dollhouse.
I'd been making miniatures pretty heavily since COVID hit and having a blast with it, largely focusing on creating custom 1/6 scale figures and scenes. I'd done a diorama of Doctor Strange's Sanctum Sanctorum. I put together a 70s style diner for the characters from Supernatural. I did a book box diorama of Alice in Wonderland. I did the house from the What We Do in the Shadows. I did Sherlock Holmes' apartment from the BBC TV series. And suddenly my mind had turned to my own characters: what if I made them?! Well, the idea swiftly grew like I'd given it a few bites of burgeonboosh! I built Mary Ann and Rufus by casting the best likenesses I could find from doll parts off Ebay, repainting, resculpting, and attiring them… (It was very weird to see the people who lived in my head suddenly in 3-D!) And then I moved on to create Lord and Lady Carmine, the Tweedle boys, Emmaline the scullery maid, and Douglas Divot. And then when I had a week off of my day job between Christmas and New Year's, I got started on the Manor.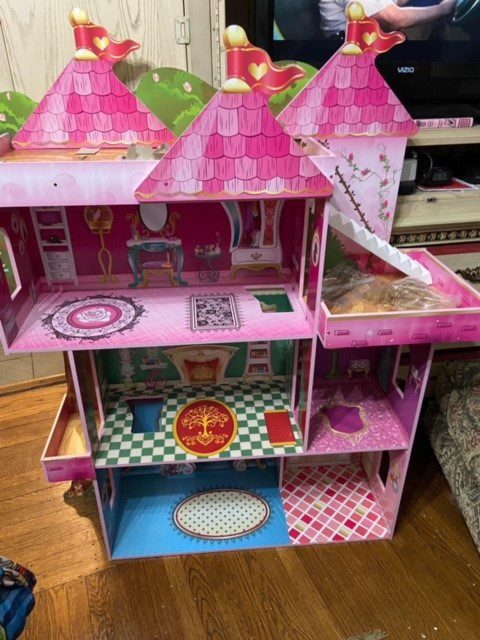 It was initially… very pink.
But I attacked it room by room, depinking it all, choosing the locales that were most important to the plot of the first Mary Ann book, and what worked out best for the space I had. It became a rooftop Unbirthday party area, Rufus' bedchamber, the Carmine family dining/sitting room, the courtroom and the Mirrigation room. I had a patio outside Sir Rufus' bedchamber that, on whim, became a mini croquet putting green, as I realized he was a big fan of the sport and played a bit himself. There were more rooms I would have liked to have done — the library, for instance — but space simply didn't allow. As it is, it's a pretty honking-big dollhouse.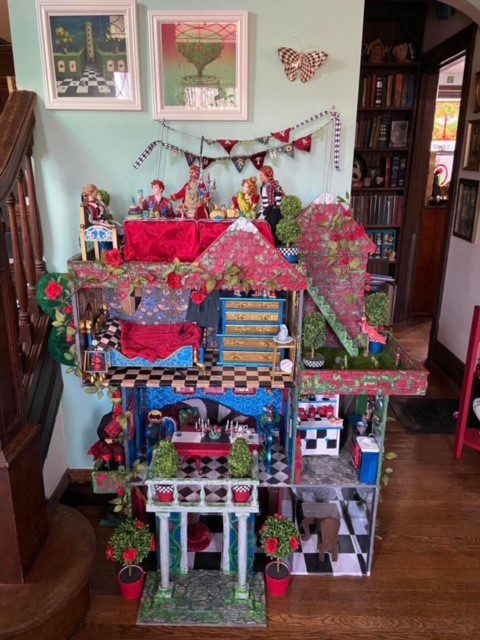 I tried to add in all the fun little details, like family portraits, Victorian-ish accessories and Wonderland style. I made as much stuff as I could, often out of thrifted doll furniture, wooden bits or recycling. As I was decorating Rufus' room, and deciding what a college-aged guy from Turvy would display, I had fun creating posters of popular bands there, jousting tournaments he participated in, and ads for his favorite croquet team.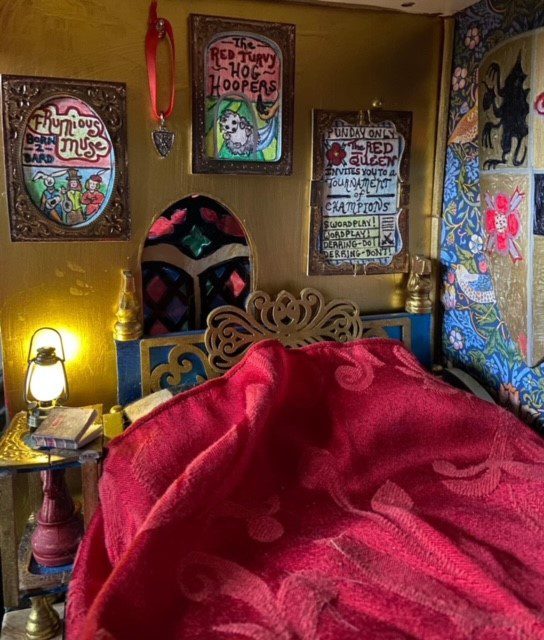 It gave me extra insight into character, ideas for writing, and some of these things ultimately got integrated into The Trouble with Tweedle. It was a lot of work — I must have cut, glued and painted hundreds of popsicle sticks for roof tiles, and so much egg carton to make exterior bricks and interior floor tiles. But in the long run, it was absolutely worth it. I look back fondly on that time and think how I almost didn't buy that dollhouse. Good sense almost made me back out, wondering where I would put it?… why would I need it?… how could it possibly be a practical decision?

Fiction is informed by so many different experiences and ideas. Creativity is definitely not a linear path. I've come to believe that if you're inspired to try some creative outlet, and you can make it happen, it's well-worth pursuing. Don't talk yourself out of the impulse to play around for a bit. We all need that time to play. Besides, you never know what all you have in you, and where it will lead.