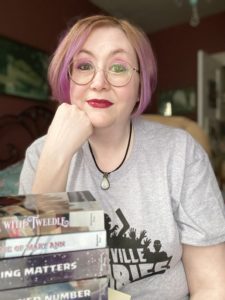 Jenn always knew she wanted to be a writer; it was the C+ in Penmanship that initially held her back. By the age of 11, she'd written her first mystery novel, Key to the Blue Moon, which her secretary— er, Mom—was good enough to type up for her. It was a raging hit among the two people she knew.
Spurred by her dramatic success, she went on to write other works, an experience that found her cluing into the Mystery genre, flirting with the Melodramatic Teen style, and becoming better versed in the Embarrassing Poetry of Which We Shall Never Speak Again school of writing.
Yet, oddly, no one stopped her from attending Carnegie Mellon University for Creative and Professional Writing. And it was here she discovered that humor was in her heart.
This was a surprise, since the funny bone usually gets so much press.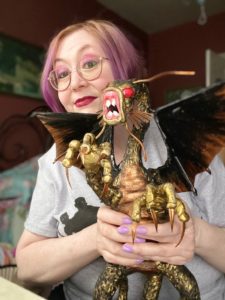 Soon Jenn graduated from Carnegie Mellon and, with an inconvenient bent toward eating regularly, she took a job as a technical writer for a software development company. In the years that followed, she would move from the joys of explaining where the File menu was, to managing the marketing of the company's product line. Marketing, she realized, involved a gleeful combination of Making Stuff Up and Actually Getting Paid for It; so she became a full-time marketing writer and project manager in a local advertising firm. She also continued to hone her fiction, and her first published story, "The Last Great Play of Rosie Cosnowski" made its way into the Timber Creek Review.
Since those days, Jenn Thorson's stories have been published in the Humor Press, The Knight Letter (the magazine for the Lewis Carroll Society of North America), and Romantic Homes magazine. Her books include the There Goes the Galaxy humorous sci-fi trilogy (which includes There Goes the Galaxy, The Purloined Number, and Tryfling Matters) and two books in the Lewis Carroll-inspired, Wonderland mystery series, The Curious Case of Mary Ann and The Trouble with Tweedle. 
Jenn Thorson lives Pittsburgh, PA, where the city's quirky residents and surreal moments are not entirely unlike Wonderland, though with a lot more football and fewer beheadings.