Look below for links to purchase books in paperback, ebook, and audiobook forms. And if you'd care to help support these independently-published books by spreading the good word through some fun swag, you can find that here, too.
The Curious Case of Mary Ann series
The Curious Case of Mary Ann
Book 1
Things that start with the letter M: murder… motives… Mary Ann…
Mary Ann Carpenter, housemaid to Wonderland's White Rabbit, misses all the action when Alice drops into town.
She has her own problems. As witness to the murder of her estranged father, Mary Ann must go under-underground to learn more about the man she barely knew and the motives for his death. But the more she discovers, the more M-words keep coming. Like magic mirrors, monsters, mistaken identity, and a murderer who is the mysterious manservant to the Queen of Hearts.
Mary Ann is mightily moved to unmask his malicious machinations, but can she unearth the evidence, expose the killer and keep a cool head?
(Available in paperback,
Kindle ebook, and audiobook)
The Trouble with Tweedle
Book 2
Tweedle-Dee, Tweedle-Dum, Tweedle-Die?
Mary Ann Carpenter, the White Rabbit's former housemaid, swapped her mop for a knight's sword and is focused on her future. But when one of the Tweedle twins vanishes — and the prime suspect is a mythic, monstrous crow — Mary Ann's mission takes flight. The Red Queen tasks her and a partner, Sir Rufus, to solve the Tweedle trouble in Turvy. Soon, the two are enwined in a twisting twail of tweachery — from carnivorous cryptids, ancient secrets, and elusive artifacts to tabloid journalism and corvid dating techniques.

By rook or by crook, Mary Ann and Rufus must track down the Turvian Tweedlenapper, leading a mad and magical journey destined to leave the whole realm rattled.
(Available in paperback,
Kindle ebook, and audiobook)
There Goes the Galaxy series
There Goes the Galaxy
Book 1
No one ever said saving the world would be glamorous.
It's the age-old tale of boy meets alien abductor. Boy meets stun gun. Boy learns he's the only one in the Universe who can save the Earth from an extreme world makeover by interstellar landloards.
Yeah: he thinks it's a bit much, too.
Like everyone else on his planet, Bertram Ludlow hasn't paid much attention to fluctuations in the intergalactic real estate market. But as a cognitive psychology grad student, he has given some thought to what a complete mental breakdown looks like. And this is pretty close.
Now Bertram is discovering space is a mad and mindboggling place where interspecies communication rests on the power of a gumball… Where androids demand better work/life balance… Where crime is Art, technology still has its bugs, and lasers don't go "pyew-pyew."
It's also surprisingly easy to get on the Universe's Most Wanted List.
So with the weight of the world on his shoulders, and the cosmic law on his tail, can Bertram outrun, outwit and out-bid to save the Earthling squatters from one spaced-out redevelopment plan?
(Available in paperback
and Kindle ebook)
The Purloined Number
Book 2
Life in the Greater Communicating Universe isn't easy. But death, now that has its perks.
For Rollie Tsmorlood, escaping a prison planet that no one ever survives… well, it's more than a smart lifestyle choice. It's the perfect chance to unleash some covert revenge.
But when someone steals the number three for ransom, suddenly Rollie's not the only one looking for justice. Universal systems have ground to a halt. A third of the universe is trapped in a mysterious viral field. Even the Earth's stuck in a looky-no-touchy zone.
Add to this, Rollie's beloved ship has been sold for space salvage, and what's an industrious deadman to do?
Earthling pal Bertram Ludlow knows. He's learned a lot since ducking death himself. He's discovered the thrill of second chances, the power of cold, hard cash… and he's more than certain his planet's endured enough.
Soon, Rollie and Bertram are caught up in a confounding case of cosmic conspiracy, two-faced dames, hot pursuit and lukewarm vending machine seafood.
Can Rollie and Bertram track down the numeroterrorist, free the GCU and rescue Rollie's greatest nemesis… before their own numbers are up?
(Available in paperback
and Kindle ebook)
Tryfling Matters
Book 3
They say you can't go home again. But some people never listen.
Earth — known to the rest of the universe as Tryfe.
No matter what you call it, the little blue planet's had its share of hard knocks. It's been bought and sold to alien developers. It's been held for ransom. Now the universe's most famous Tryflings — Bertram Ludlow and Rozz Mercer — have returned to clean up the mess.
And what a mess it is! Family is acting strange. An alien corporation is running the place. And corporate outreach has an unusually hungry vibe.
Of course, even alien overloads need quality staff, so Bertram and Rozz boldly dive into the belly of the beast. As corporate spies, they must navigate a dangerous trail of conspiracy theorists, assassins, energy beverages and boy bands — all while battling the darkest force of all: day jobs.
Can the Tryfling defenders save Life As We Know It, or have Bertram and Rozz bitten off more than they can chew? Don't miss this exciting conclusion to the There Goes the Galaxy trilogy!
(Available in paperback
and Kindle ebook)
Related Goodies…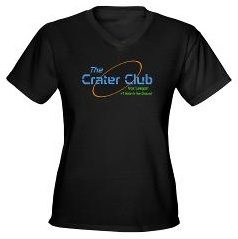 Crater Club
Women's T-Shirt
The planet Vos Laegos' #1 Hole in the Ground tourist destination promises thrills, swill, and this out-of-this-world souvenir t-shirt. Wear it anywhere in the Greater Communicating Universe and it makes a statement to lifeforms everywhere that you have very low standards.
What Will Bertram Do?
Car Magnet
Bertram Ludlow has never exactly been lucky. He needs all the help he can get. So why not tell folks on this planet about Bertram's stellar adventures, by slapping some magnety goodness onto your car or fridge?

"No one ever said saving the world would be glamorous, Ludlow"
Bumper sticker
For the unsung hero who actually kinda wants to sign about it a little.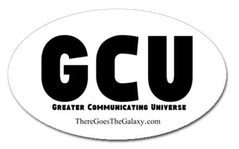 GCU (Greater Communicating Universe)
Travel Bumpersticker
Show this world you've earned your space legs with this GCU travel sticker. Slap it on your favorite car, laptop, or Interplanetary Cruise Vessel. Click to order here.